Elizabeth Taylor's Judaism, love for Richard Burton highlight epic new biography
Few people can rival Elizabeth Taylor's impact on American popular culture. Taylor's life was a warp-speed roller coaster of dizzying ups and downs.  Her heart-stopping physical beauty combined with bonafide acting ability launched her acting career when she was only 17. She was married eight times, including twice to Welsh actor Richard Burton. She battled alcoholism, drug addiction and fatal attraction to wealthy and powerful men; she was a flagrant and ruthless adulterer, who could destroy the marriages of her rivals. Raised as a Christian Scientist, Taylor became a Jew by choice and donated generously to Israel.
Elizabeth Taylor
Author and journalist Kate Andersen Brower has published what overnight has become both the definitive biography and the "authorized version" of Taylor's life.  Brower had full access to Taylor's archives, including unpublished letters, photographs and "private reflections."  The nearly 500-page book covers in exhaustive detail every aspect of Taylor's career.  Remember when Taylor choked on a chicken bone? Or when her limitless demands in the title role of "Cleopatra" nearly bankrupted MGM?  Both are given extensive coverage in Brower's massive, encyclopedic tome.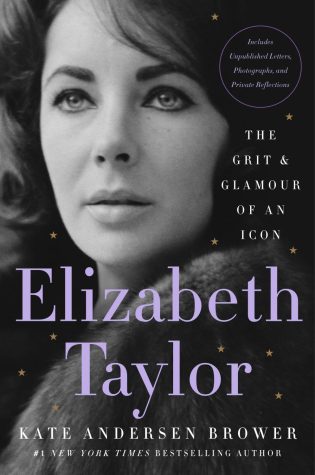 Of particular interest to Jewish readers may be Taylor's conversion to Judaism. Two of her many marriages were to Jews: Michael Todd and crooner Eddie Fisher, but Brower notes that Taylor insisted that the choice to embrace Judaism was not to placate her Jewish spouses but resulted from serious study.
Taylor asked the distinguished scholar Rabbi Max Nussbaum for books on Judaism and was attracted to its values and commitment to acts of kindness and social justice. These Jewish values influenced her decision to become an early advocate of support for people with HIV/AIDS.
Elizabeth Taylor becomes Jewish
Brower notes the death of Todd in a tragic plane crash, and Taylor's decision to become Jewish: "On March 3, 1959, a year after Mike's death, Elizabeth officially converted to Judaism at Temple Israel in Hollywood," she writes.  "It was a way to keep (Mike) close and to find meaning during her grief. Raised as a Christian Scientist, she felt a deep connection to the Jewish faith and its people, especially having seen how they were persecuted during World War II."
Brower adds: "Her Hebrew Name was Elisheba Rachel (who was the favorite wife of Jacob)."
Rabbi Nussbaum of Temple Israel in Hollywood visited Taylor while she was mourning. She asked Nussbaum why Mike died.
"He gave her books about the philosophy of Judaism, excerpts from the Bible, the history of the Jews, even the bestselling novel 'Exodus,'" Brower writes. She quotes Taylor as saying, "In seven months, I knew that I had found what I had been searching for, for many years. Neither Mike Todd nor Eddie Fisher did anything to encourage me to become a Jew."
As evidence of her commitment to the Jewish people, Brower notes that at a Friar's Club dinner, she pledged to buy $100,000 in Israel Bonds."
Brower adds that because she was Jewish and supported Israel, Egypt and every other Arab state at first banned her films. When Egyptian President Gamal Abdel Nasser saw "Cleopatra," he allowed the film to open in major cities across Egypt. Even Nasser could not resist Taylor's violet eyes!
On May 12, 1959, Taylor married Eddie Fisher at Temple Beth Shalom in Las Vegas. Taylor flagrantly stole Fisher from actress Debbie Reynolds.
Taylor would soon find out that Fisher was no bargain; he was a gambling addict who stuck her with a $250,000 gambling tab.
Years later Taylor and Reynolds became friends through their shared contempt for Fisher.
True to her Judaism to the very end, Taylor instructed that her funeral at Forest Lawn Cemetery be held before sundown on Shabbat.
Brower's comprehensive biography of Elizabeth Taylor is both a richly detailed almanac and a compassionate eulogy to a life lived to the fullest.