Don't start shopping until you check out "Ellen's Annual Hanukkah Gift Guide"
Once again, it's time for my shopping superpower to shine as I bring you this year's installment of Ellen's Annual Hanukkah Gift Guide. I've lost track of how many of these I've done over the years, but as usual, I've tried to keep the focus on local businesses — some with Jewish ties — and included St. Louis-centric experiences to consider as a way of sharing quality time with family and friends. After all, what better gift is there than making happy memories?
So let's get started with this year's offerings (one for each night of Hanukkah) and here's to a healthy and happy holiday season and 2023. 
#1 Judaica jubilee
There was a time when Judaica shops were plentiful in St. Louis. OK, maybe plentiful is a stretch, but there was the Source in Creve Coeur, which was my go-to for all my Judaica needs until it closed in 2013. Well, the good news is that two local synagogues have appealing Judaica shops, including the newly opened Gallant Family Judaica Shop at Congregation B'nai Amoona, which is beautifully curated.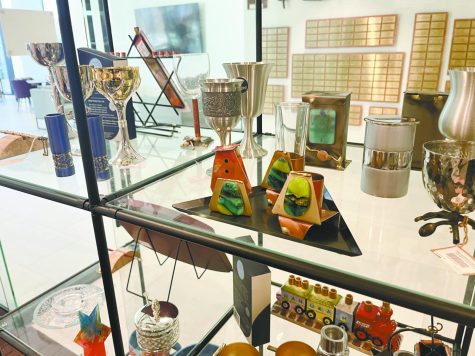 Shop manager (and B'nai Amoona's Director of Development) Gail Armstrong explained that the emphasis is on "showcasing a variety of Judaica and Israeli artists at a variety of price points." Judaica works from several local Jewish artists like Cindy Larimore and Ilanit Michelson are featured among an eye-catching assortment of hand-crafted menorahs, kiddush cups, challah boards, jewelry, mahjongg memorabilia and so much more. If you're in the market for a child's menorah, the shop carries several of Israeli artist Emanuel's whimsical ones, ranging in price from $84 to $120. 
At United Hebrew, Hanukkah merchandise is so plentiful that it takes four long tables to display all of it, in addition to the synagogue's small but well-stocked gift shop, Unique Treasures.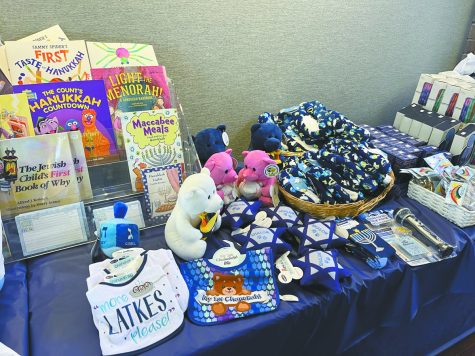 It offers loads of Hanukkah-themed gifts for youngsters such as laser dreidels, travel games, coloring and sticker books, stuffed animals and more. Manager Iris DeWoskin says the shop's Hanukkah slippers ($8-$9) are such a popular item she can barely keep them in stock. And the menorah drip trays, at $11, sell out every year.
#2 Sweets for the sweet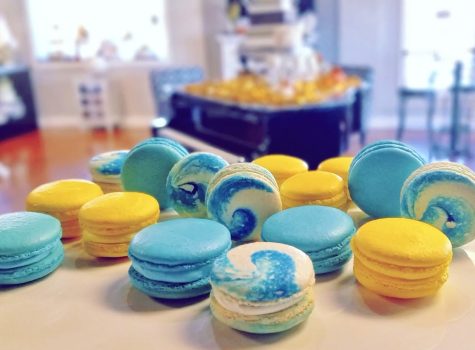 Baker Brad Lamb has appeared on Food Network's "Halloween Wars" and "Holiday Wars." That means he knows something about baking. Lamb and the team at the Wedding Wonderland Cake Studio are offering Hanukkah-themed French macarons. Macarons (pronounced mack-a-RONS) are a confection made up of two round, flat, almond-flour-based cookies sandwiching an emulsified filling like ganache or jam.
Available Dec. 13 through the end of Hanukkah, flavors are vanilla, gooey butter cake and sufganiyot/jelly doughnut. You can call (314-837-5015) to order the flavors you like ($2 each) or pick up a pre-packaged 8-pack at the bakery, for $16, located at 449 Dunn Road in Florissant. They make a great host/hostess gift.
#3 Cookie draw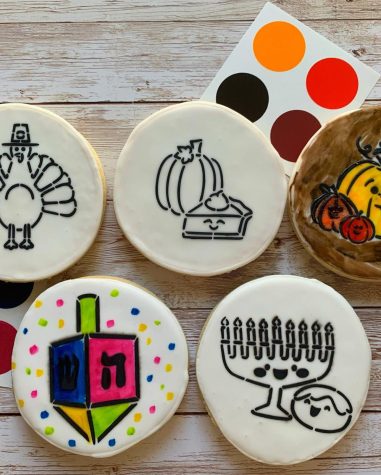 If macarons aren't your thing, or you're in the market for a sweet treat that can double as a crafts project, consider Haley Beth Organ's paint-your-own Hanukkah cookies. A 4-inch custom cookie comes stenciled with a dreidel, menorah or sufganiyot. A mini paintbrush allows you to "paint" the cookies with a food-coloring palette, just like you would watercolor art. Organ's yummy vanilla sugar cookies are both gluten and dairy free and can be made to be vegan. The Hanukkah cookie paint set costs $8 and can be ordered at [email protected]. Pick up on Dec. 17-18 in Brentwood or south St. Louis.
#4 My happy place
As Gaga to a preschooler and first grader, I'm always on the hunt for unique toys that challenge their skill levels but don't leave them frustrated. To that end, I need direction and help. That's why I've come to rely on Happy Up Inc., with locations in Clayton and Edwardsville. 
The downtown Clayton store is on the small side and can be overwhelming — every nook, cranny and shelf is packed with merchandise. I remember feeling anxious the first time I entered because there was so much to navigate. But thankfully owner Shawnta Ray and her incredibly knowledgeable staff take the time to walk customers around, listen to what you think you might want and offer up helpful suggestions. With toys, puzzles, books, costumes, games, instruments and more from over 300 companies, Happy Up has something — make that many, many things — for children of all ages that you aren't likely to see in most big-box store toy departments. Oh, and Happy Up gift wraps, too. 
#5 Soap star
On the subject of happy places, one of mine is the Hill. Not only does this south city neighborhood boast dozens of inviting bars, restaurants and Italian groceries, it also has some great specialty shops. Among them is a soap and gift store named Herbaria, which is co-owned by a nice Jewish guy named Ken Gilberg, who goes by the moniker Gino (hey, it's the Hill, amici).
Now in its 20th year, Herbaria offers fragrance-free, hypoallergenic, eco-friendly soaps ($6.49 a bar) and personal care products in more than 50 varieties such as almond green tea, chai spice, mojito, lime coconut aloe and my favorite, rosemary mint. Visitors can also tour the store, where soap, shampoo, lip balms, moisturizers and more are made on the premises. And while you're there, say hi to Soapy, a Louisiana Catahoula (dog), who welcomes customers by snoozing in a chair near the front door.
#6 Beary merry holidays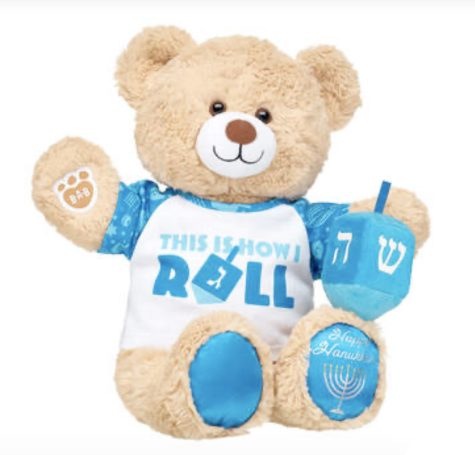 With more than 400 stores and outlets worldwide, Build-A-Bear Workshop isn't exactly local, but its roots certainly are. Founded by Jewish St. Louisan Maxine Clark 25 years ago, the company is headquartered here and opened its first shop at the St. Louis Galleria in 1997.
Today, Build-A-Bear offers bears and cubs outfitted in Hanukkah garb that children can either "build" at the store, or parents can order online. One big seller is the Hanukkah Wishes Bear, which comes with a dark blue teddy bear, a plush menorah "wristie" that attaches to the bear's paws, a box filled with kosher birthday cake cookies and another with robin's egg caramels and a lemon sugar cookie scented candle. Available online only, it's on sale for $48.10 (originally $75) at buildabear.com.
#7 Experience this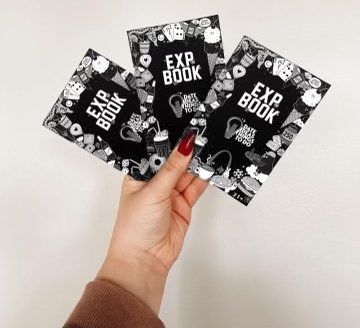 A couple of years ago, I bought this gift for a newly divorced friend who wanted to get out more and try new places. Unfortunately, the pandemic put a kibosh on those plans.
And while I'm aware COVID is not over, I feel more confident about the 2023 EXP Book, a passport-style booklet that offers discounts and special offers to more than 80 "St. Louis experiences" at area shops, eateries, bars, breweries and entertainment venues. Recently acquired by a company called Date Ideas & Things to Do, owner Morgan Casey says the 2023 booklet is perfect for "people wanting to explore the city and try new places. It's a great way to encourage people to get out and it gives them an incentive to do so."
The booklet, on sale now for $30 (regularly $35), offers $45 off a "date night" at the Wheel Park at Union Station, with two rides on the Ferris wheel, two mini-golf rounds, two drink and two 6×8 pictures. Discounts on other experiences include Blues tickets, axe-throwing and rock climbing as well 2-for-1 glasses of wine at Herbie's and $5 off any $25 purchase at Steve's Hot Dogs.
Booklet advanced orders are going on now, with all discounts and offers good until Dec. 31, 2023. To order or more information, go to experiencebooklet.com.
#8 Music to your ears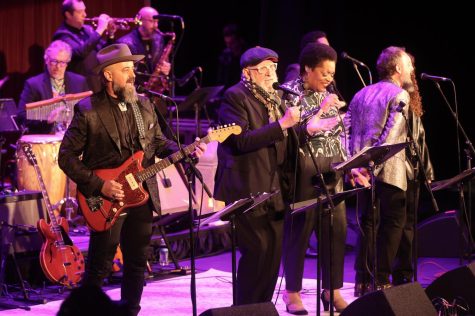 If you've never been to the Brothers Lazaroff Hanukkah Hullabaloo, you truly are missing out. Its recent 12th annual installment at The Grandel in the Grand Arts Center featured band leaders Jeff and David Lazaroff, Rabbi Jim Goodman, vocalist extraordinaire Anita Jackson, the resplendent Eight Nights Orchestra and DJ Boogieman. 
At one point, 18 musicians joined to perform a rousing, high-energy rendition of "Hava Nagila," followed by Bob Dylan's "I Shall Be Released," including Jeff's teenage daughter Daisy, singing and playing violin, and David's 7-year-old daughter Laila, also on violin. Lazaroff spouses Julie and Gayle were also onstage frying up latkes. All proceeds went to Jewish Community Center in Krakow to support their efforts to assist refugees in Poland from the war in Ukraine. 
Obviously, this isn't a gift you can buy now, but set an alert for next November to visit brotherslazaroff.com for ticket information. And in the meantime, consider a show at the Blue Strawberry in midtown, where you enjoy drinks and dinner along with live music in an intimate setting, and be home by 10 p.m.