Do you know this Jew? She's said to have had the 'saddest eyes in Hollywood'
Born 1910 as Sophia Kosow in The Bronx, New York to Russian-Jewish immigrants, she would become on the stage and film as actress Sylvia Sidney. Sidney rose to fame in the 1930s for playing the partner of gangsters and alongside the leading actors of her day. She also was one of the first American actresses to work with Alfred Hitchcock, appearing in "Sabotage" (1936). The character actress also had a strong career in theater and television.
Raised in New York City, Sidney studied at the Theatre Guild School in Manhattan and made her Broadway debut in The Squall at age sixteen. Hollywood soon came calliing and she quickly made her first film, Thru Different Eyes, in 1929. She signed a contract with Paramount Pictures and starred in City Streets (1931). That film, brought Sidney to stardom.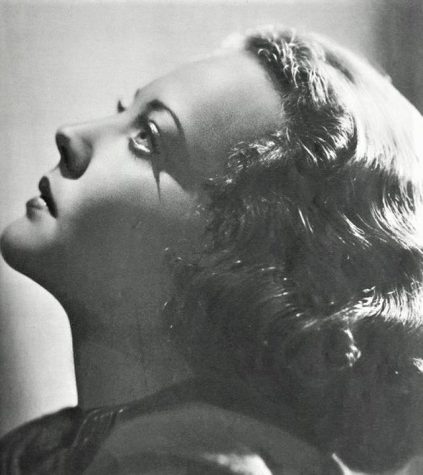 Someone once described her as having the "saddest eyes in Hollywood."
During the 1930s, the Sydney starred opposite such film icons as Humphrey Bogart, Cary Grant, Gary Cooper, James Cagney, Henry Fonda, and Spencer Tracy. In most of her films, Sidney was cast as an anguished heroine. Her working-class urban heroines endeared her to audiences, despite her own distaste for being typecast. Among her films from this period were Dead End (1937), You Only Live Once (1937), and Alfred Hitchcock's Sabotage (1936).
In 1956, Sidney left Hollywood and returned to Broadway. She returned to film in 1973 in Summer Wishes, Winter Dreams; she was nominated for an Oscar as Best Supporting Actress for that role. Moving back and forth among film, television, and stage roles, Sidney went on to act in Tennessee Williams's Vieux Carré on Broadway (1977).  She went on to act in Tim Burton's "Beetlejuice" and "Mars Attacks!," which was her last movie. On the side, she raised pug dogs for competitive show and wrote two books on needlepoint.
In addition to acting, Sidney was involved in AIDS research and, after the 1985 death of her son from ALS, in research and advocacy for Lou Gehrig's disease. In addition, she published two books about needlepoint, in 1968 and 1975. Sidney died of throat cancer in 1999.