Dear Lay's: Give Us A Replacement For Your New York Reuben Chips
Published February 2, 2023
I love trying crazy snack flavors, especially all the bizarre chip flavors Lay's comes out with. Over the years, I've discovered that Lay's limited-edition flavors can be hit or miss — and elusive.
I loved the Wasabi Ginger chips, but was only able to find them once. The Cheesy Garlic Bread chips were fine, but didn't live up to their name (too cheesy, not enough garlic).
The Chili Mango tasted like chili mango, but that's not really a flavor I want on a chip. Did I really think these odd-flavored snacks were going to be just as good as the original, more traditional flavors? Of course not. But the fun comes from seeing if key lime pie M&Ms, snickerdoodle Smartfood popcorn, or jerk chicken chips can somehow capture the flavor of something they are not, yet claim to be. The experience is even more enjoyable when I gather a group to join in.
But one unconventional chip did rival traditional flavors. In fact, I'd go as far as to say that no chip will ever compare to the perfection that was the New York Reuben chip, which was part of Lay's "Do Us A Flavor" campaign in 2015.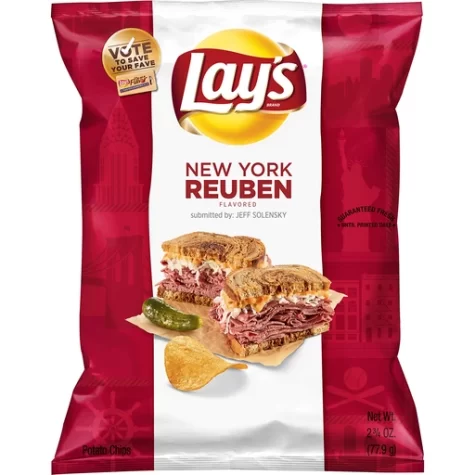 The Reuben chip was one of four limited-edition, customer-invented flavors that the company released for the campaign. The other flavors were West Coast Truffle Fries (a potato turned into another type of potato — boring),  Kettle Cooked Greektown Gyro (tasted like literal vomit), and Southern Biscuits and Gravy (surprisingly accurate but not as memorable as the Reuben chip).
To understand why the Reuben chip was so impressive, perhaps we first need a history lesson on the sandwich and its ingredients. Most people associate the Reuben sandwich with New York diners and delis, hence the chip name "New York Reuben." Funnily enough, though, it was actually invented in Omaha, Nebraska by the Russian Jewish owner of the Blackstone Hotel.
In 1928, the inventor, Charles Schimmel, came up with the idea for the sandwich while serving poker players at his hotel. One of them, Reuben Kulakofsky, the Jewish Lithuanian owner of a local food market, requested a sandwich with sauerkraut. Thus, Schimmel invented the Reuben sandwich: corned beef with sauerkraut, Emmental (a type of Swiss) cheese, and Russian dressing, fried on pumpernickel. Today the sandwich is sometimes  made with slight variations, like adding pastrami or using rye bread, but largely remains the same.
The idea that all these flavors could transfer to a potato chip seems pretty unlikely. And yet, Lay's somehow nailed it: I have no idea how they managed to infuse delicious notes of rye bread, corned beef, Swiss and sauerkraut into a thin piece of fried potato.
Alas, all I'm describing to you feels like a fever dream now, considering what happened. The New York Reuben Chip was like Oedipus or Hamlet, a tragic hero who started out great before succumbing to an untimely death.
Part of the "Do Us a Flavor" campaign involved customers voting on which of the four chip flavors would become permanent. The New York Reuben unjustly lost to Southern Biscuits and Gravy.
Eight years on, I still mourn for the Reuben chip, but I've come to terms with the fact that Lay's probably aren't ever going to bring it back — surely, if that was their intention, they would have done so already. But to make up for this loss, we can still daydream of other Jewish- or Jewish-American- inspired chips that may be coming down the Lay's pipeline. Perhaps, one day, one of these could take the place of the New York Reuben:
Everything Bagel Chips with Cream Cheese, Red Onion, Lox, Tomatoes and Capers
Similar in essence to the Reuben chip, since it's also a Jewish New York delicacy, but oh-so different in flavor. And I know what you're thinking: How could they get all those flavors into a chip? And wouldn't a chip with lox in it be gross? But let me remind you that you probably would've said these same things about the idea of a Reuben-flavored chip with notes of corned beef in it. And you would have been proved wrong.
Lachmagine Chips
Lachmagine seems like the perfect contender to be turned into a chip because of how flavorful this dish is — the small Syrian meat pies seasoned with ingredients like tamarind, cinnamon and allspice are balanced by tomato paste, which I think would translate well to a chip.
Kettle-Cooked Sufganiyot Chips with Raspberry Jam
I'll admit, I'm trying to stir up some controversy with this one. But considering that chips and sufganiyot are both fried, maybe it could work. I'm also curious if a coating of powdered sugar would be possible.
Pastrami Sandwich Chips with Spicy Brown Mustard and Sour Pickle
We'd still get the meat and rye bread flavor of the Reuben, but the mustard would take it to a completely new level. If you're not familiar with how delicious mustard-flavored snacks are, I implore you to try Snyder's Honey Mustard & Onion Pretzel Pieces. A sour hint of a New York diner pickle would tie it all together.
If the New York Reuben chip is really gone forever, it's time Lay's does us a flavor and picks a successor.