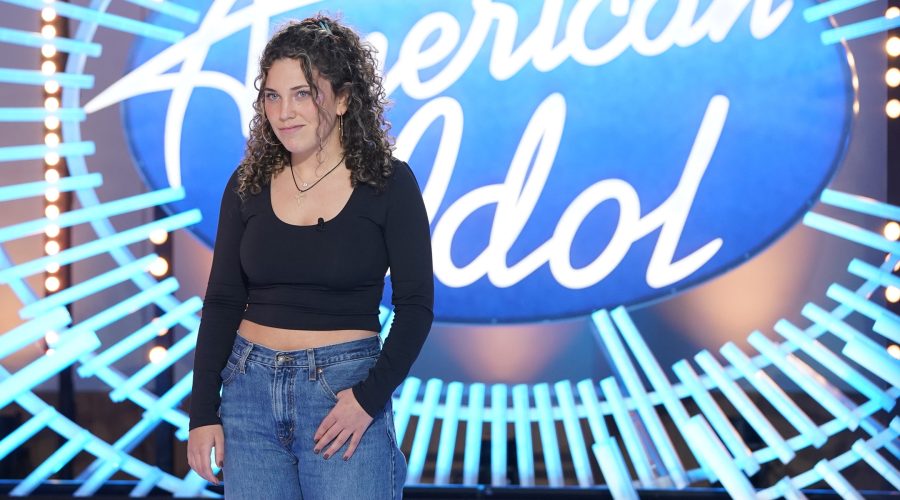 (JNS) — If Danielle Finn had to choose between her faith and her dreams, it would have been a bummer.
In her initial tryout on Zoom, the 17-year-old senior at Shalhevet High School in Los Angeles told producers of "American Idol" that she observes the Sabbath. As she progressed during in-person auditions on a Friday when she was one of 59 contestants to be judged, she and her family knew that there was a problem.
"We were a little bit freaking out, that I wouldn't be able to compete," Finn told JNS, noting her observance comes first.
The solution? The producers allowed her to be among the first to audition at 3:30 p.m.
"They got me out with plenty of time before Shabbat, and they had a security guard walk me and my family from the Orpheum Theatre to the hotel that we were staying in," said Finn, adding that the show even paid for the extra night they needed at a hotel from Friday night to after sundown on Saturday night.
Her father, Yosi, said his heart was warmed not only by the fact that his daughter was in the top 24 out of about 130,000 who auditioned, but by the tremendous measures of the staff of "American Idol" now in its 20th season.
"They went above and beyond," he said. "That they would be so respectful to our Shabbat observance; it is really amazing."
Fans may vote for their favorites on Sunday night, April 10, as ABC showcases those who have made it this far.
'I'm Jewish because it's part of my story'
The first time that Finn sang for celebrity judges Lionel Richie, Katy Perry and Luke Bryan, she sported her grandmother's chai necklace and launched into "Mirror" by Madison Ryann Ward. She was told to try it again in a higher key, which could have flustered some performers. But Finn remained calm, sang with soul and punched her ticket to Hollywood.
"Internally, I was a little bit nervous, but I keep trying to remember in this show, you only have one shot," she said. "Confidence is really important when you're on stage. Everyone in the audience can see through that—if you have fear on your face and you're performing, even if you sound great, they can see it. So that's what I was just channeling. I was like, 'This is my only shot,' and I kind of just have to go for it."
She said that while she knows there have been other Jewish contestants before (Adam Lambert was a runner-up in Season 8), she didn't see any that were openly Jewish. "I want people to know that I'm Jewish because it's part of my story," she said. "I've never not thought about my Judaism through everything I've done."
She gives credit to Shalhevet choir director Joelle Keene for teaching her harmonies and giving her vocal coaching. She said teachers and friends "are really stoked" for her, and she was especially proud of an email the head of school of her school sent to faculty, students and families.
"Always be yourself and know that everyone around you may be different than you, and you may feel out of place, but it's really important to know your worth."
Rabbi David Block wrote that what Finn is doing is a Kiddush Hashem or a "sanctification of God's name."
"On the world's stage, Danielle is talking openly about what it's like to be observant, to keep Shabbat, to keep kashrut throughout the competition," he wrote. "Unapologetically. In a space where no one else is, where it would be far 'easier' not to. And we're incredibly proud of her."
In an email to JNS, Block wrote that "education is not about putting information in students' minds, but about helping them become their best selves … ," as well as helping each student reach their individual potential.
'The craziest and most relieving moment of the competition'
Finn got a standing ovation from the judges after singing Adele's "Easy on Me" featuring great breath control and impressive trills.
"I don't know where this kid gets it," said her father, before postulating that it may come from his own father, who was a chazzan, or cantor.
Her maternal grandfather inspired her to audition because since she was little; she said that he used to watch the show with her and told her that she had a great voice. A touching clip from an episode shows her singing "You Are My Sunshine" with him. Unfortunately, he now suffers from Alzheimer's disease.
We hear her say that when she told "Poppy" she'd be on the show, his eyes brightened and even though "he doesn't really know exactly what's going on," he was a great spark, and she appreciates his belief in her.
Finn said she is also thankful to her mother, Wendy, for staying with her during the competition (as required since she is a minor) and being supportive while giving her space to hang out with fellow contestants.
"I've never not thought about my Judaism through everything I've done."
The last step to get to the final 24 was a duet with Sage McNeely, and Finn was told her solo performances were stronger. As she was about to be told her fate, the member of Young Israel of Century City, who once sang the Hanukkah song "Maoz Tzur," said she wasn't sure if her opportunity would last for more nights.
McNeely, a Los Angeles resident, who recently dropped her single "Brace Yourself," braced herself for the judgment. Perry informed the pair that generally one singer moves on, and the other goes home. But the twist was that both contestants advanced to another round and hugged each other as host Ryan Seacrest clapped.
Finn, who named Jennifer Hudson one of her favorite "Idol" contestants, acknowledged that it was high drama.
"It was the craziest and most relieving moment of the competition," she said.
Perry, a staunch advocate for her, previously commented that Finn "had like crazy notes and crazy tone that people dream of."
The student said she focuses on her tone, rather than constantly belting out big notes. Finn, whose take on Gnarls Barkley's "Crazy" went viral on TikTok, said her message to fans is that people should stay true to their identity and maintain confidence.
"Always be yourself and know that everyone around you may be different than you, and you may feel out of place," she advised, "but it's really important to know your worth."
Fans will get to vote for the first time this season when "American Idol" airs on Sunday night, April 10, on ABC.