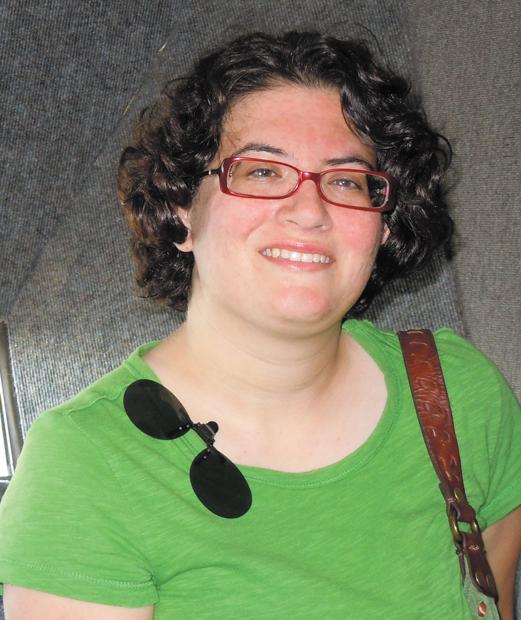 You wouldn't be wrong if you referred to the exhibition Clasp at Craft Alliance – Grand Center as a jewelry show, but its themes are much broader than mere ornamentation.  Though most pieces are meant to be worn, curator Robert Longyear tells viewers that the show title refers not only to jewelry and metalwork but also to people's attachment to our world.  Below I discuss some pieces that particularly attracted me.
Seth Papac's three works consist of deconstructed electric lights or lanterns (more like models of lanterns, since they don't have light bulbs or wiring): one is made of brass and enameled copper; the second, brass, birch, Mylar, and electrical cord; and the third, brass and acrylic.  They offer a vintage, 1970s feel due to their styles and colors (geometric green, orange, and yellow forms).  "Papac sees the body as a structure for jewelry to interact and communicate with the wearer and the viewer," says Longyear.  Indeed, the elements of each lantern resemble oversized necklaces and earrings, impractical to wear but fun to imagine.  The title of all three pieces, put on the lights, has a double meaning: turn on the lights or put them on your body.
I also enjoyed Bruce Metcalf's brooches, comprised of organic 3D leaf and floral shapes in a mix of earth tones and bold colors on decorative backings.  They are made of carved and painted wood and precious metals, and their size (4 or 5 inches) is large enough to get noticed.
Maple, 18k gold, and gold-plated brass make up the piece Pink Loop.  The green and brown shapes resemble leaves which surround a three-lobed pink component at the center.  Metcalf's pieces are over-the-top, decadent, almost gaudy, but possess an artistic edge in terms of composition and color.  Explains Longyear: "Metcalf looks at historical adornment as both status and sex symbol," and indeed, the brooches have a sensual (and sexual) quality.
Like Metcalf, Michael Dale Bernard transforms basic materials into something exotic and eye-catching.  Bernard carves wood into large faceted "gemstones," paints them in bright coordinated colors (such as yellow and gray; dark and light blue; and chartreuse, brown, and white), and sets them into decorative metal bases to form brooches, large rings, or necklaces.  The pieces have a monumental quality and reference costume jewelry or bling.
Clasp is on view at Craft Alliance – Grand Center through January 13.  Craft Alliance – Grand Center is located at 501 N. Grand Blvd. in St. Louis City, in the Big Brothers Big Sisters building, at the corner of Grand and Olive.  Gallery hours are noon to 6:00pm Wednesday and Thursday; 11:00am – 6:00pm Friday; noon to 6:00pm Saturday; noon to 5:00pm Sunday; and closed Monday and Tuesday.  For more information, please call the office at 314-534-7528 x302 or the gallery at 314-534-7528 x303, or visit www.craftalliance.org.