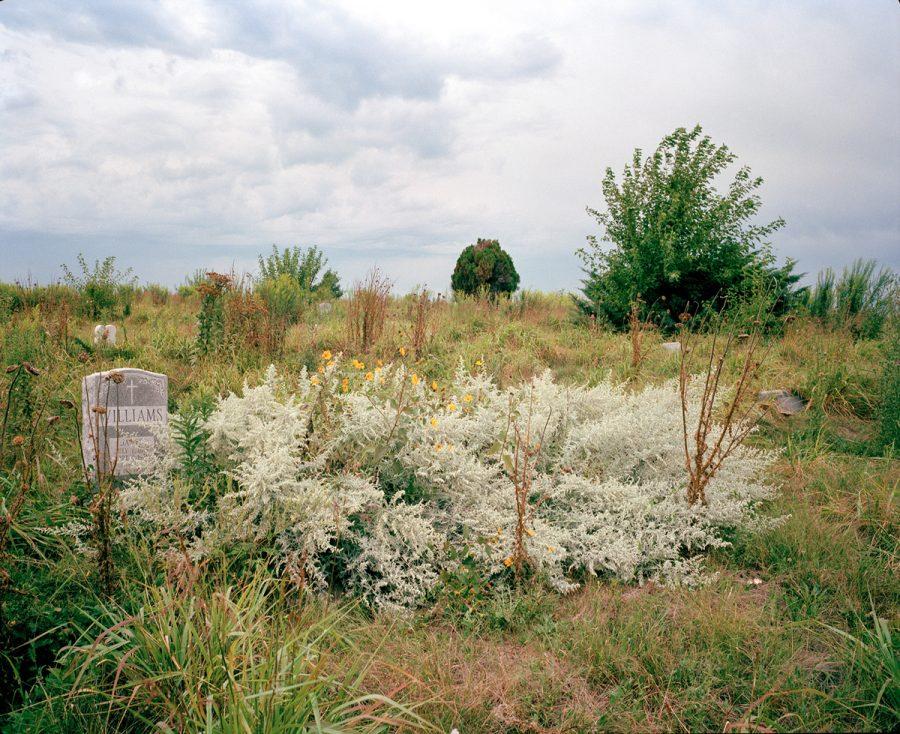 Even though I've lived in St. Louis for nearly my whole life, there is plenty of history here about which I still haven't learned. The exhibition "Higher Ground: Honoring Washington Park Cemetery, Its People and Place" at the Sheldon Arts Foundation highlights an overlooked aspect of the city's history.
It follows the cemetery's past and present through art and artifacts on display. Artworks include 50 photographs by Jennifer Colton, three videos by Denise Ward-Brown, and a sculpture installation and animated film by Dail Chambers.
Washington Park Cemetery was created in 1920 for African-Americans. For almost 70 years, it was the largest black cemetery in the region. Despite its prominence, the site has been disturbed multiple times by urban expansion: in 1955 when Interstate 70 was built, which divided the cemetery in half; when Lambert Airport was expanded, causing 12,000 bodies to be moved in order to accommodate the new runway; and in the 1990s with the extension of MetroLink. The neglect of past owners of the cemetery contributed to its problems, but today volunteers and its present owner, Kevin Bailey, whose father is buried there, are working to restore it.
Colton's photographs depict overgrown parts of the cemetery: tall weeds, tangled brush, and gravestones on cleared land. Many of her pieces are difficult to view because they document previous poor treatment of the cemetery.
Denise Ward-Brown's videos, both titled "Home Going", provide a more optimistic outlook. They focus on interviews; footage of people trying to find the burial plots of relatives among the overgrowth; and volunteers cleaning up the cemetery.
The most whimsical piece in the exhibition is Dail Chambers' video, titled "Sankofa: A Collective Mythology." It follows her genealogical search for her grandmother and continues with her discovery of other ancestors. The video alternates between vignettes of Chambers writing statements about her family on a chalkboard, and stop-animation video clips. One clip features Harriet and Dred Scott as paper doll-like figures with articulated limbs, moving around on a collaged background. 
One original artifact, Volume 7 of the St. Louis County, Missouri Assessor's Plat Book, is a large volume which contains a map of the cemetery and roads that border it. The exhibition also contains reproduced cemetery maps of burial plot sections. 
Visitors are invited to submit copies of family photos and family stories to the Sheldon, as a participatory element of the exhibition. 
Azzurra Cox poignantly sums up the state of the cemetery and its larger implications in her essay in the "Higher Ground" exhibition catalogue: "The cemetery today is thus as much a site of African-American pride, tradition, and self-preservation as it is a living record of systemic breakage and neglect. Washington Park Cemetery also speaks to the politics of memory in black cemeteries across St. Louis and, indeed, the country as a whole."
"Higher Ground" is on view at the Sheldon through Aug. 26. The Sheldon is located at 3648 Washington Blvd. in Grand Center. Gallery hours are Tuesdays, noon to 8 p.m.; Wednesday – Friday, noon to 5 p.m.; Saturday, 10 a.m. to 2 p.m.; and one hour prior to Sheldon performances and during intermission. For more information, call 314-533-9900 or visit www.thesheldon.org/.