Overwhelmed by glut of cookbooks? Here are suggestions for Hanukkah gifting—or keeping
By Margi Lenga Kahn , Special to the Jewish Light
Published December 7, 2022
Walk into any bookstore and you will be astonished by how much space is dedicated to cookbooks. Likewise, check out a library near you. The stacks are overflowing with cookbooks. It is wonderful and can be overwhelming.
So, what makes a good cookbook and how do you decide which cookbooks are right for you and which cookbooks will make the best gifts?
Bear in mind that a good cookbook can be enjoyable on many levels. If you are in search of new and exciting recipes in a specific genre, such as vegetarian, kosher, gluten free or ethnic cooking, that will certainly help narrow your options. Check out recommendations and reviews from The New York Times and any number of food magazines in print and online, such as Bon Appetit and Food & Wine. Some bookstores, especially the independent ones, have staff who are knowledgeable and happy to impart their knowledge of authors and books and make recommendations.
Consider visiting a library that has a great cookbook collection. Two of St. Louis' finest library cookbook collections are at the University City Library on Delmar Boulevard in the Loop and the central location of the St. Louis Public Library on Olive Street downtown. Both have a section dedicated to new cookbooks. Give yourself time to browse the hundreds of titles. Plenty of cookbooks will connect with you and your tastes.
And the best part of a library, of course, is that you can check out cookbooks that appeal to you and test some of the recipes at home. (I've been known to home back from the library with a bagful of 10 books at a time.) 
Ask yourself these questions about the recipes you test: Are the ingredients easily accessible, and are the measurements reasonable? Did whatever recipe you tested turn out well? If the dish in the cookbook was photographed, did your dish look anything like the picture? Are the recipes sufficiently different and inspiring that you would like to continue cooking through the book and/or give it as a gift?
There are some cookbooks whose recipes are part of a memoir. These cookbooks often make great gifts. A good example is the late Gourmet Magazine food columnist Laurie Colwin's "Home Cooking: A Writer in the Kitchen," a wonderful collection of her delightful columns based on her memories and time spent in the kitchen. Even if you are not a cook, you will love the book. 
Other examples of this genre of books I have enjoyed over the years are "Tender at the Bone: Growing Up at the Table" by Ruth Reichl, and just about anything by the late prolific food writer M.F.K. Fisher. Two wonderful examples: "The Gastronomical Me" and How To Cook A Wolf."
And if you are in search of a cookbook of recipes with beautiful pictures, either for yourself or as a gift, there are plenty from which to choose. Food photography is having a heyday and, while the books can be inspiring for their recipes, the stunning photography automatically make them a good bet for you or as a gift. 
One of my favorites in this category is "A Kitchen in France: A Year of Cooking in My Farmhouse," by Mimi Thorisson. I have enjoyed many of Thorisson's recipes, and the stunning photography by her husband, professional photographer Oddur Thorisson, briefly transports me to the French countryside. I can relate to their houseful of kids and pets, and I just adore their country kitchen.
I have cooked through so many wonderful cookbooks this year that it's difficult to choose which to feature in this column. Some of my favorites have been:
• "A Good Bake: The Art and Science of Making Perfect Pastries, Cakes, Cookies, Pies and Breads at Home," by Melissa Weller with Carolynn Carreno
• "Ottolenghi Test Kitchen: Extra Good Things" by Noor Murad and Yotam Ottolenghi
• "Baking With Dorie: Sweet, Salty & Simple" by Dorie Greenspan
• "The Wok: Recipes and Techniques" by J. Kenji López-Alt
• "What's for Dessert: Simple Recipes for Dessert People: A Baking Book" by Claire Saffitz.
But for this Hanukkah season, I recommend the following four new cookbooks, all for their creative approaches and all written by Jewish authors:
"Berber & Q: On Vegetables"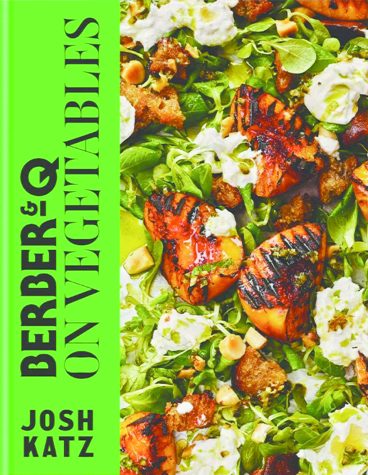 By Josh Katz (Kyle Books)
This cookbook is inspired by and reflects Josh Katz's travels through the Middle East, the Mediterranean basin and North Africa. Before opening three restaurants in London, Katz trained at Ottolenghi, the eponymous restaurant that began Yotam Ottolenghi's rise in the culinary world.
Stunning photographs accompany most of the recipes in this cookbook, which, I guarantee, will make you want to cook just about everything in the book. Trust me: You won't regret it! 
"Sweetcorn Fritters With Slow Roasted Tomatoes & Persian Lime Yoghurt," as well as "Beetroot & Carrot Rosti," are fabulous and would be perfect for Hanukkah. "Risotto of Freekah with Confit Garlic & Sourdough Breadcrumbs" tastes sinfully rich and is a great excuse to try freekeh, an ancient wheat grain that is harvested while it is still green and then smoked. And "Grilled Broccoli with Pickled Red Onion, Rose Harissa & Pistachio" is a revelation.
"Feeding Women of the Talmud, Feeding Ourselves"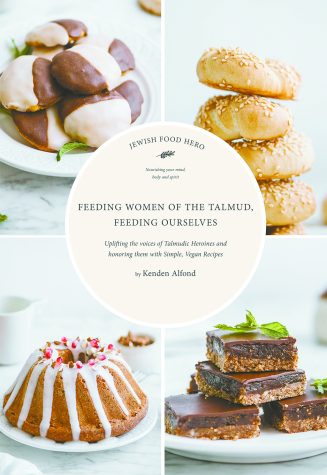 By Kenden Alfond (Turner Publishing Co.)
This the second volume in a series called the Jewish Food Hero Collection, a community endeavor of 129 women, including rabbis, scholars, educators and food historians. All volunteered their time and expertise, and all proceeds from the sale of the books are donated to Jewish charities.
This volume consists of 61 stories of women in the Talmud, each paired with a vegan recipe inspired by the story.\With each story, the author talks about the context of the story, offers an aggadah (a modern commentary) and provides prompts or questions to consider or discuss. 
It would make for a memorable book club discussion along with an evening of delicious food. The book is not religious. Rather it provides all women, regardless of their religion, with some interesting themes and perspectives on women's lives when the Talmud was written between the third and sixth centuries CE. Oh, how our live and roles have evolved!
The recipes from the book are easy to follow, unusual and delicious. A few that I will make again and again: "Creamy Coconut, Red Lentil, and Apple Soup," "Wild Red Rice Toasted Vegetable Platter with Pomegranate Molasses and Fresh Herbs" and "Golden Turmeric Lemon Cake."
"Prep + Rally: An Hour of Prep, A Week of Delicious Meals"

By Dini Klein (Harvest Publications)
This is the first book for St. Louisan Dini Klein, daughter of Debby and Ethan Schuman.  
The mother of three, Klein began as a private chef and then created the Prep + Rally meal prep service. Her book is the perfect gift for anyone pressed for time or in need of creative quick cooking ideas or who feels trapped in a cooking rut. The gist of the book revolves around prepping various foods at the beginning of the week in just one hour — sauces, vegetables and proteins such as chicken, beef and fish — and then using those elements to create easy, delicious meals every day of the week.
Some tasty examples of Klein's meals are "Saucy Meat Stuffed Shells With Roasted Squash," "Sunshine Kebabs With Hawaii-Spiced Cauliflower" and "Poke Bowls With Ponzu Sauce." 
Klein has come up with a creative approach for making weeknight meals doable and exciting.
"The Modern Table: Kosher Recipes for Everyday

 

Gatherings"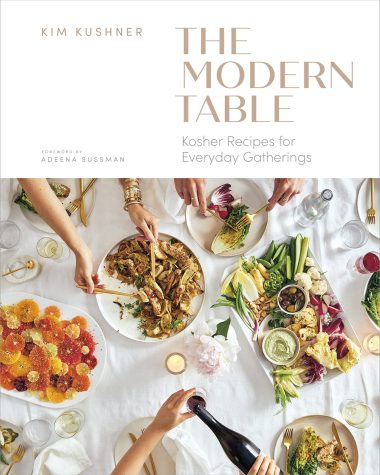 By Kim Kushner (Figure 1 Publishing)
Kim Kushner's third cookbook turns kosher food on its head. No overcooked vegetables, no dry and dull meats and no heavy cakes. Instead, just fantastic food prepared with quality ingredients that are easy to find, and recipes that are easy to prepare for dinner party perfection. 
Take, for example, "Arctic Char With Chili, Hazelnut and Dill Oil." A side of arctic char, a trout native to Alaska and Canada, is roasted in the oven. While it roasts, you prepare the sauce: roasted chopped hazelnuts, fresh dill, orange zest, olive oil and chili flakes. Once the fish is ready, you pour the sauce over the fish and\voila!\Quick and easy, and a beautiful and delicious main course.
Kushner is a graduate of the Institute of Culinary Education in New York City and, in addition to writing cookbooks, is a popular culinary educator sharing her expertise through classes around the world. Some of my favorite recipes from her book, in addition to the arctic char are: "Leek, Lentil and Chickpea Tagine," "Vegetable Ramen With Soy-Garlic Sauce and Peanuts" and "Orange Blossom Chiffon Cake With Rose Petals."
I hope I have given you a helpful guide to choosing the perfect cookbook for yourself or a good friend. Delicious food is a wonderful way to connect with family and friends, to stay healthy and to make beautiful memories — truly a language of communication.
Happy Hanukkah!