Oasis celebrates fourth decade of working with older Americans
Bill Motchan, Special To The Jewish Light
Published October 25, 2022
In the early 1980s, older adults had far fewer resources. Community centers offered basics such as a hot lunch, simple crafts and bingo. It's a much different world now, thanks in large part to Oasis, a national network that began 40 years ago in St. Louis.
Marylen Mann, the founder of Oasis, saw a critical need and set about to solve it.
"There was a lack of understanding of what aging is and what people are capable of," said Mann, 85. "I believe in the value of education at any age, and I became aware that there weren't many education opportunities for older adults here and around the country. 
"It seemed to me that we could have people live longer and better if we focused on three things I thought were important — intellectual stimulation and education, the opportunity to improve their own health, and volunteerism — not low-level activities like stuffing and addressing envelopes, but something meaningful."
Oasis, entering its fifth decade, has a 33-state footprint, spans 43 cities and has 370,000 members, said Paul Weiss, the group's president.
"We have about 800 partners, we have centers in eight cities and tutoring in 15 cities," said Weiss, 55. "Our technology literacy program is licensed by municipalities and libraries, our health program partnerships are in multiple states, and we have a pilot project with the U.S. Department of Health and Human Services to do innovative volunteer programs to support low income caregivers in 23 states."
The origin of Oasis
Mann, a member of Central Reform Congregation, has a background in philosophy and education. She is tenacious but also adept at schmoozing. Those were important assets for the leader of a fledgling organization that needed support and funding. She got it from the May Co. (now part of Macy's) and its ubiquitous Famous-Barr stores.
May executives were initially skeptical about the value of senior centers in retail stores. Mann convinced them that it would be good for business, cultivating an untapped customer base. It also proved helpful for the company's image. Another key component for Oasis early on was a grant Mann obtained from the U.S. Administration on Aging.
Oasis originated in St. Louis, but Mann found a lack of resources for older adults was a national issue. The first cities she expanded to were Cincinnati, Los Angeles and Baltimore. With the May Co. and, soon after, Anheuser-Busch as corporate partners, Oasis found its footing. 
Now, BJC Healthcare is the most prominent Oasis sponsor. 
Mann's most recent initiative is a six-hour, three-part series of panel discussions that address end of life. 
Coming up in 2023 will be a national platform for the program in the form of a PBS special.
Growth and recognition
Gradually, the organization expanded and fulfilled Mann's vision of offering education, health care support and volunteering. The fall Oasis lifelong learning list reads like a college continuing education catalog. Course subjects include genealogy, entrepreneurship, foreign policy, history, the environment and technology. 
It's a far cry from the first-grade craft projects Mann remembers seeing at a senior center that, she said, "hurt my heart."
Conventional wisdom in the early 1980s was that aging meant a decline in mental capacity. That was a gross misconception, Weiss said.
"If you think about the cliché that you can't teach an old dog new tricks, it's like saying you can't teach an older adult a new skill," he said. "People assume there's a calcification of the human brain, but there's a tremendous amount of elasticity in the aging brain."
By 2007, the success of Oasis became legend. Mann was invited by the U.S. Secretary of Health and Human Services to attend the U.N. Conference on Economics and Aging in León, Spain.
"They used me to represent the best that the U.S. was doing for seniors," she said. "No one else was doing what we were doing."
A significant economic impact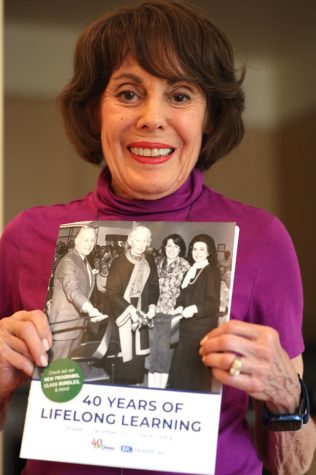 Oasis programs go far beyond the classroom. Other learning options include walking, biking and healthy living. Several courses focus on balance and avoiding falls, and two address living with diabetes. These subjects fulfill a need Mann saw as critical to address.
"We weren't giving people the opportunity to improve their own health," she said. "If you had diabetes, the doctor would give you a diet and you went home and pretty soon you'd fall off the cliff. But Weight Watchers had a model I thought was successful. You get people together with the same issue and give them education and put them together, with the same goals in a weekly setting."
The group dynamic model continues to work well for Oasis health-related classes. Weiss said healthy living does more than improve the well-being of participants; it has a positive financial impact.
"When older adults take exercise classes and fall prevention classes, they're living a healthy life that disengages them from the economics of the health care system," she said. "They delay a loss of function and dependence on health care, which is the biggest rising cost in America. Healthy aging equates to a healthier economy."
Tutoring connects generations
Volunteerism is the third key Oasis component, which manifests itself through a robust intergenerational tutoring program. Tutors are paired with children in kindergarten through third grade for weekly one-on-one sessions. It's a commitment that requires training and work with underserved students. That may sound like a challenging assignment for a retired older adult. In reality, the tutors love it, and they provide an important educational supplement. Mann said tutors get as much out of the program as their students.
"They are there because they want to be," she said. "It's amazing the relationships that develop. We've had some tutors for 30 years."
The average age of an Oasis tutor is 71, and there's a 95% tutor retention rate, Weiss said.
"We're in 27 school districts and 260 schools doing tutoring in the St. Louis metro area," he said. "We have over 2,000 tutors, and some tutors take multiple kids. The commitment and duration are amazing. The value of our financial impact is immeasurable. In tutoring alone, what it would cost to get that adjunct instruction in the schools is tens of tens of millions of dollars over the last 30 years of the tutoring program and it has been delivered virtually for free.
"Many of the areas we're in are the most challenged school districts. We were not getting a host of resources to those schools. So there's this tremendous hidden economic impact of Oasis that I think would be unfundable by any other vehicle than older adults volunteering their time."
The Missouri History Museum will host a free program to celebrate Oasis and its accomplishments at 11 a.m. Nov. 8."We Can Do Better for Older Adults: The 40-Year History of Oasis" will feature Mann, Weiss, and former Oasis president Marcia Kerz. Information is available at oasis.org/history.