Missouri's small towns are filled with rich Jewish history
Missouri has a rich Jewish history — not only in St. Louis, Kansas City and the Ozarks — but across the state.
Eric Berger, Special For The Jewish Light
Published June 1, 2022
Mara Cohen Ioannides, an English professor at Missouri State University, once lived in New York where, she said, "If you want something, you ask for it." So Cohen Ioannides did not understand when the editor of OzarksWatch magazine approached her a few times at the university in Springfield and said, "No one has done an issue on Jews of the Ozarks," in southern Missouri. 
He was hinting that Cohen Ioannides, who is Jewish, should do such a publication. That project led her to another realization: Missouri has a rich Jewish history — not only in St. Louis, Kansas City and the Ozarks — but across the state.
OzarksWatch published an edition dedicated to documenting the region's Jewish history in 1999. More than two decades later, that initial exploration has culminated in her new book, "Jews of Missouri: An Ornament to Israel."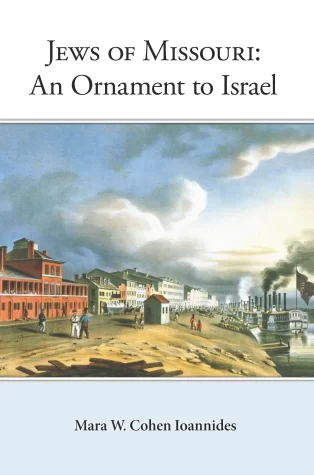 Cohen Ioannides said she wants to illuminate the role that Jews played in shaping the state.
"Missouri history is very Christian, as it has been presented, and I think we need to stop that," she said. "We need to place ourselves in it. It is important because of the rising amount of hate in this country and the overriding Christian feeling that America is Christian, America is white and everyone else is irrelevant."
The book, which covers the period from before statehood in 1821 until World War I, details the Jewish history of 74 cities and towns, some as small as Knob Noster and unincorporated Mine La Motte. 
"My goal was to find as many towns as possible, to show the extent to which Jews were a part of the cultural, social and economic landscape and how they were involved in the creation of the state," Cohen Ioannides writes in an introduction to the book, which draws its title from an 1843 essay in which the writer, Julius Stern, called for Israelites to purchase a large tract of land in the Western territories. 
"In such a society, excellent men and worthy women might spring up, who would deserve to be called an ornament to Israel, and an honor to mankind," Stern wrote.
Cohen Ioannides spent more than three years conducting genealogical research and writing the book. She used sites such as Ancestry.com and Fold3, which collects military records and researched records at the St. Louis Jewish Community Archives and the Missouri Historical Society.
"The hardest part was trying to figure out how everyone is related before they came over (from Europe) because the genealogical materials in Europe are harder to get into and not as complete" as those in the United States, she said.
That meant she could sometimes only deduce that people were probably related without definitively stating that, which she acknowledges in the book.
Still, Cohen Ioannides was able to trace how Jews used railroad lines and waterways such as the Mississippi and Missouri rivers to migrate across the state and open businesses in small towns. They would advertise their businesses as "The Jew Store."  It was a description, rather than a slur, she said. 
"The Jew in town was the unique person, and people were often referred to in reference to their uniqueness," said Cohen Ioannides, who is president of the Midwest Jewish Studies Association, a nonprofit academic group. "Once a store became known as that name, the owner would then use the nickname."
The first recognizable Jew to settle in the territory before it became a state in 1821 was Ezekiel Block, a German Jew who was in New Madrid by at least 1803 and likely by 1796, Cohen Ioannides determined. Members of his family then spread out across the state.
In Louisiana, Mo., a town along the Mississippi River north of St. Louis, Phineas Block owned a mill and a grocery and became president of the Upper Mississippi Insurance Co. and a partner in the Northern Mississippi Steamship Co.
"He also worked as a religious leader and shochet [kosher ritual slaughterer] for the surrounding communities," Cohen Ioannides writes. "Charles Edward Pancoast, in his memoir about traveling to California, called Phineas 'rabbi' and remarked he 'had a delightful time' with the Block family in Louisiana."
The book contains other interesting stories. In the early 19th century in St. Louis, Joseph Philipson, a German Jew, opened the first brewery west of the Mississippi River and was a partner in the first such distillery.

An 1816 editorial that Cohen Ioannides quotes in the book states that in "the opulent town of St. Louis, with a capital of one million dollars, it has but few manufactures, no respectable seminary, no place of worship for dissenters, no public edifices, no steam mills, nor boats, no bank. Mr. [Joseph] Philipson has just established a brewery … thousands of bushels of grain are offered at a very low price to any man who will establish a distillery."
Cohen Ionannides said she doesn't think antisemitism was a big issue for Jews who settled in Missouri. 
"In the South, Jews were not allowed into private clubs and stuff like that," she said. "That wasn't the case in most of Missouri."
Still, the Jewish presence in small towns eventually evaporated. Some of it had to do with intermarriage, as options were few for Jews seeking a Jewish spouse, Cohen Ioannides said. 
Some Jews just saw their life in a small town as a temporary escape from the pogroms of eastern Europe, rather than their end goal. 
"They would send their sons and daughters off to college, where they would find spouses, so they wouldn't come back, so you had the closing of the Orthodox congregations or melding and merging into the Reform ones," Cohen Ioannides said.
But some Jewish presence outside of the state's two big cities remains, as evidenced by Cohen Ioannides' own life in Springfield over the past 30 years. She is a member of the city's only synagogue, Temple Israel, which was founded in 1893, and is working on a second book about the city's Jewish community.
Cohen Ioannides also continues to deliver talks in places where she might be the first Jew who attendees have met.
"The last talk I gave someone said, 'Wow, I never knew Jews were in pretty much every small town in Missouri,' " Cohen Ioannides said. "I said, 'Yeah, once the railroads opened, they were everywhere.' "
 To order "Jews of Missouri: An Ornament to Israel," visit the Missouri State website.