How watchmaking skills saved 3 Jewish brothers from the Nazi death machine
Riveting memoir tells story of brothers' survival — two of whom settled in St. Louis
BY ROBERT A. COHN , EDITOR-IN-CHIEF EMERITUS
Published June 22, 2022
Every Holocaust survivor story is both a miracle and a curse. The miracle for any Jew in Nazi-occupied Europe between 1939 and 1945 is the fact that they managed to escape the merciless, ruthless and efficient Germans at all. The curse is survivors' trauma, often compounded by the torment of guilt.
"Why did I survive when hundreds in my family, neighbors perish in hell holes like Auschwitz, Buchenwald and Mauthausen—six million Jews in all?
"The Watchmakers," by Harry Lenga and his son Scott Lenga, is not an easy book to read, and yet it is a mustread, especially as vicious atrocities appear in real time daily on TV and social media from Ukraine and places like an elementary school in Texas.
"The Watchmakers" is a gripping true story chronicling the harrowing experiences of Harry Lenga and his two brothers, Mailech and Moishe (they would later go by Marcel and Morris, respectively), who learned the highskill trade of making and repairing watches from their father, Mikhoel Lenga. Little did these three Hasidic yeshiva bokhers know that the skills learned from their dad would literally save them from the gas chambers when they were imprisoned after the Nazi invasion of Poland on Sept. 1, 1939.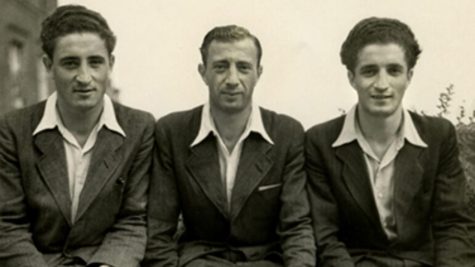 To describe "The Watchmakers," which will be published June 28, as "gripping" or "stranger than fiction" are understatements. The manuscript is derived from the oral history that survivor Harry Lenga recorded for the St. Louis Holocaust Museum (now the Kaplan-Feldman Holocaust Museum), at the behest of his son Scott, a St. Louis native who now resides with his wife in Israel. Longtime Holocaust Museum docent Vida "Sister" Prince interviewed Harry Lenga and the transcribed recordings are the primary source for this powerful book. Scott Lenga lovingly curated Harry's straightforward memoir based on those transcriptions, which constitute a precious legacy.
Harry Lenga (1919-2000) was a native of Kozhnitz, Poland and employed in Warsaw when the Germans stormed into Poland. At great personal risk, he was able to escape from the hellish Warsaw Ghetto in 1941 and reunite with his family later that year in Kozhnitz. That town was not a refuge for the Lenga family; they escaped before the Nazis murdered its entire Jewish population.
According to Harry Lenga's memoir, the watchmaking band of brothers survived the rest of the war in a series of infamous Nazi labor, detention and death camps. In heart-pounding detail, Harry's memoir describes how they managed to survive through the very skills in watchmaking they had learned at their father's workbench.
They arrived in a nearby Polish labor camp "with a suitcase full of watchmaking tools and watch parts from their father," a decision which literally saved their lives.
From the first labor camp, the three brothers from 1942 and 1945 to the camps in Wolanow, Starachowiche, Auschwitz, and the Austrian camps of Mauthauesen, Melk and Ebensee.
In what the book aptly describes as a "bold strike of audacity," Harry Lenga approached "cruel, sadistic foreman named Cornibus," who was wearing a broken wristwatch with no internal mechanism. Cornibus was stunned when Harry presented him with a fully operational restored watch. Cornibus set the brothers up so they could make and repair watches for Nazi camp officials. The Lengas were literally "buying time" by making or repairing timepieces.
The three brothers stayed together in camp after camp, still "buying time" with the skills they learned from their dad.
The Lenga brothers were liberated from Ebensee on May 6, 1945, led by an American tank commander named Robert Pensinger, whose testimony is quoted in the book.
Harry and brother Morris immigrated to St. Louis in 1949 — the third brother, Marcel, settled in Paris, where he and his wife opened a successful clothing store. Harry married and had three children, including Scott Lenga, whom we thank for making sure the story of his father and his two brothers is now and forever told in this stunning book.
---
'The Watchmakers' by Harry Lenga and Scott Lenga; Citadel Press, 315 pages, $27.95.