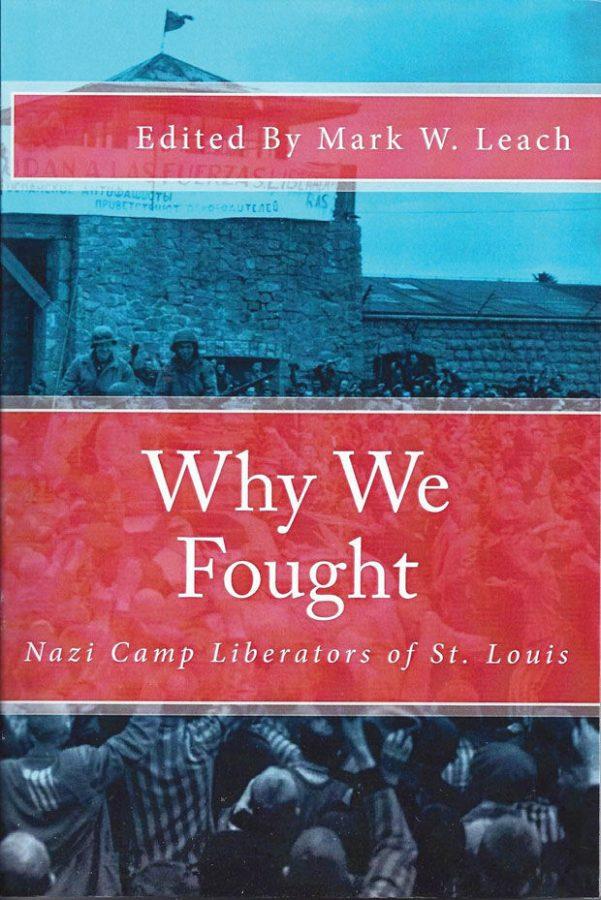 Mark Leach is a man determined to tell an important story — a number of them, in fact.
"The purpose of the book is to capture these World War II stories while as many of (the participants) as possible are still around," said Leach, 51, of Chesterfield. "It also documents what the Holocaust survivors experienced, what the prisoners of war experienced inside the camps, as well as the experiences of the WWII veterans who liberated the camps."
That was the impetus for "Why We Fought: Nazi Camp Liberators of St. Louis" (360 pages, $15), which compiles harrowing tales from local individuals relating to the Shoah and the world's bloodiest conflict. Proceeds from the self-published book, which includes the stories of 27 liberators, seven POWs and five survivors, will benefit the St. Louis Holocaust Museum and Learning Center.
Leach, a native St. Louisan, said it's important to chronicle the wartime experiences of people who had a connection to the Gateway City.
The author  is not Jewish although some of those whose stories he tells are. Leach said experiences of those who survived the terrors of the Holocaust and the war hold lessons for all of us.
"Their stories are inspirational because you can read what they went through, and they were somehow able to put the horrors of the war behind them and go on to lead very productive, rich lives," he said. "When you realize that, it really puts your own struggles, whatever they might be, into perspective. If they could overcome, then we should be able to also."
Leach said the people he chronicled defy simple categorization.
"When I started the project, I had it in mind that I could easily lump these people into different groups," Leach said. "The WWII guys were heroes, the Holocaust survivors were victims and the prisoners of war were some mix of the two. I very quickly found that to be inadequate,  because all three groups were heroes. Their stories are peppered with personal sacrifice, selfless acts of bravery, and all three groups suffered personally and suffered the loss of friends and loved ones."
Leach began his research about six years ago while volunteering at the Holocaust museum by assisting a videographer who was documenting the accounts of survivors and liberators. But for some time, he put off "Why We Fought" to work on a different book, "Silent for Sixty Years," which tells the story of Bernard "Ben" Fainer, a Holocaust survivor who went through Buchenwald and Dachau before his 1945 rescue from a death march.
Fainer says of Leach: "He is the finest gentleman in the world. He's very respected, very knowledgeable and I don't believe there are enough words in my vocabulary to tell you about Mr. Leach."
Those whose stories are told in "Why We Fought" are equally praiseworthy.
Robert "Bob" Weiss of St. Louis was a first sergeant with the unit that liberated Dachau. He says he didn't see the camp himself but heard stories about boxcars and corpses and saw pictures from soldiers returning to the town. Weiss was present as the troops liberated slaves from a factory.
"That was the first we had actually realized anything about the concentration camps," he said of Dachau.
Weiss, a native St. Louisan and a Jesuit priest, says he's glad the story is being told.
"We can never forget this horrible blot on history," he said. "I am so grateful to people like Ben and Mark, who are dedicating a good deal of their lives to perpetuating the knowledge and memories of this."
Francis "Frank" Huelskoetter of Chesterfield, a former POW who is featured in the book, said that with Holocaust denial still a problem, works like Leach's are vital. 
"I think it is important so that young people know the facts that occurred in WWII," said Huelskoetter, who was captured during the Battle of the Bulge. "They can know that things like that happened, even though some people say they didn't happen. It is important always to have young people find the truth."
Leach said the book tries to describe the soldiers' experiences during the whole war, rather than only focusing on their experiences encountering the camps. You find out a little bit about their lives before, during and after the war."
During his interviews, Leach found it rewarding to speak one-on-one with the people whose formative years had been spent as part of such a pivotal era in history.
"I think what impressed me the most was to see them as the teenage young men that they were in the war," he said. "You see them elderly, and it is hard to imagine they were just kids. I have sons of my own who are the age that would have gone to WWII, so it was interesting to hear from the point of view of when they were youthful."