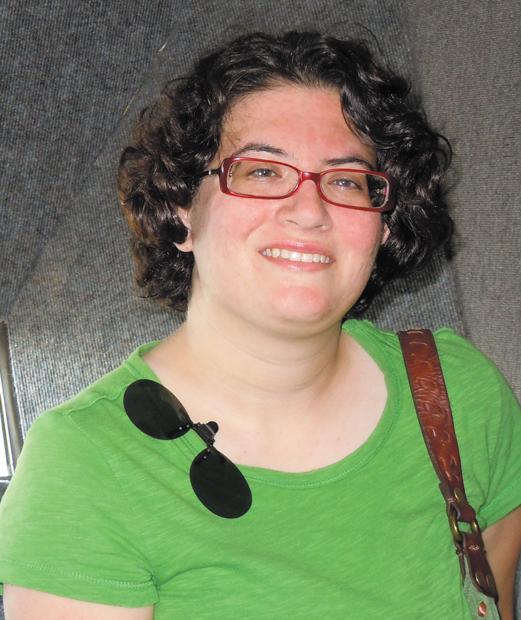 You might not think of Farmington, Mo. as a hotbed of creative activity, but James Wilson, artist in the solo show Believable Possibilities at Compônere Gallery of Art in the Loop, would beg to differ.  Originally from Farmington, Wilson left at age 18 because he thought his hometown was provincial.  After he earned a BFA at the Kansas City Art Institute, he continued moving farther afield to New York, the American Southwest and finally Mexico to paint portraits.  After he married and started a family in that country, he returned to Farmington with his wife and two children, finally able to see it from a different perspective.
Wilson created the art in this exhibition after he moved back to Farmington.  His paintings record childhood memories and communal stories, and also embody a real sense of community.  There's a wonderful folk-art aspect to his work.
The paintings are grouped by theme: people relaxing at a lake or river (swimming, fishing); women singing; and house parties.
I particularly like the water paintings because of their peaceful nature.  The fountain in the gallery adds an audible dimension to them.  Fishing Line shows men fishing in a lake surrounded by green trees.  The water reflects the bright blue of the sky and the brushwork is loose and impressionistic.  In Creek Dreams, a boy swings from a rope over the deep part of a creek.  There's a sense of nostalgia, of a simpler time and place, in these pieces.
The painting Where Singers Come From tells a different, humorous story.  A man wearing a hat and underwear crawls on all fours across the lawn in front of a house, reaching for a small multicolored toy elephant.  Meanwhile, an orange-haired woman wearing blue tights and a yellow and pink dress with a black belt steps off the porch of the house.  Her arm is outstretched as if she's singing.  It's a delightful slice of life in small-town Midwest America.
Believable Possibilities runs through Nov. 30 at Compônere Gallery of Art, 6509 Delmar Blvd. in the Loop.  Gallery hours are Monday – Thursday 11:00am – 5:00pm; Friday and Saturday 11:00am – 9:00pm; and Sunday 1:00pm – 5:00pm.  In addition to its monthly exhibitions, Compônere has a large variety of artwork including glass, ceramic, sculpture, and jewelry.  For more information, visit http://www.componere.com/ or call 314-721-1181.