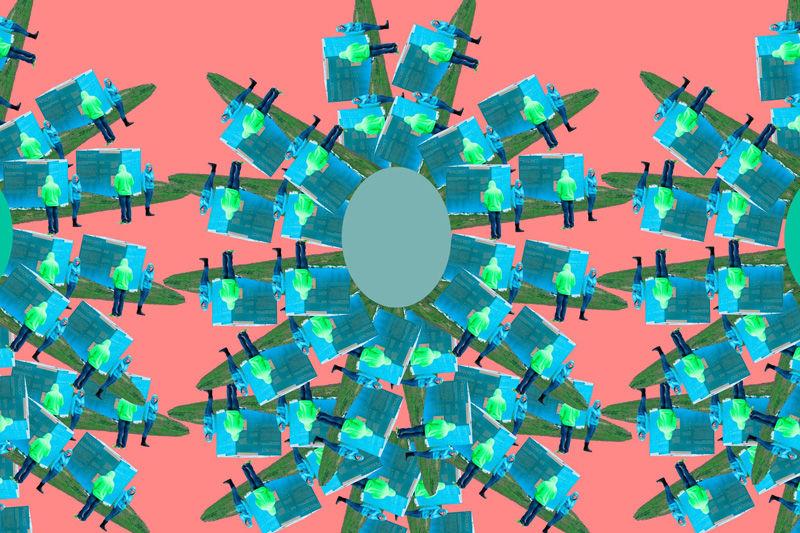 The exhibition "Yvonne Osei: Tailored Landscapes" at Laumeier Sculpture Park is striking in its use of color and in the scale of the pieces. The installation integrates Osei's designs, the setting of the park, and references to Osei herself as a black female. 
Osei explains, "I [turned] photographs I had taken [in] the park (of monumental sculptures, visitors, the various times and seasons impacting the natural landscape) and [made] them into textile designs that are inspired by West African textiles." 
One design, titled "Pepper Them", is on the floor by the entrance to the Aronson Gallery, in which the exhibition is located. Its elements are made up of images of Laumeier's parking lots (gray bars with yellow stripes) and red veins from Tom Tasset's "Eye" (the huge eyeball sculpture). The color orange fills the spaces between the elements. Osei designed these installation pieces in pleasing compositions and patterns. 
The artist's reasons for choosing certain outdoor sculptures were "quite organic in nature." She liked "Eye" because of its iconic representation of Laumeier in general. The statue called "Aurelia Roma" by Manuel Neri is familiar to visitors by sight if not by name. It's the weathered white marble sculpture of a woman in front of the Kranzberg Education Lab.
"I was attracted to [the Neri's] materiality and…prominence. It is one of the first sculptures one experiences in the Park," said Osei. "The textile installation draw[s] an outdoor-indoor relationship between my work and the sculptures." 
In addition to the textile designs, Osei also included a series of three photographs called "Here to Stay." Each depicts a black woman posing proudly in clothing with patterns designed by the artist. The patterns of the jackets are the same as the large-scale textile designs, and the jackets themselves hang in the "Fitting Room" section of the installation. Osei wants visitors to try them on.
"I invited three young black females to stand in for myself in the gallery space during the [installation] of the exhibition to create this series of photographs," said Osei. "The title [of the series] reflects a declaration of presence and an attempt to establish permanence of young black females in the installation."
She continues, "Through exaggerated modelesque poses and forward unapologetic gazes, the three black female muses are hyperaware of their presence. … They show off who they are, what they look like, and what they are wearing."
"Tailored Landscapes" is on view at Laumeier Sculpture Park through March 4. Laumeier is located at 12580 Rott Road in south St. Louis County. The park and its exhibitions are free and open daily from 8 a.m. until 30 minutes past sunset. The Adam Aronson Fine Arts Center is open daily from 10 a.m. to 4 p.m. For more information, call 314-615-5278 or email [email protected]