"Armageddon Time" is a powerful statement about antisemitism, racism in 1980s Queens
Cate Marquis , Special to the Jewish Light
Published November 3, 2022
"Armageddon Time" is a family drama about a Jewish boy in Queens, New York in 1980. Writer/director James Gray's semi-autobiographical drama is set at a pivotal moment for the boy, as the moral guidance of his beloved grandfather contrasts with the "just look out for yourself" advice and American Dream plans of his loving but ineffective parents, as the country is at its own pivotal moment with the dawn of the Reagan era.
"Armageddon Time" tells a complex, deeply meaningful story of complicated people, antisemitism and racism in 1980s Queens, generational shifts in values, and a boy who must find his own moral path, as he learns the truth about power, money and privilege in America.
Irving Graff (Jeremy Strong) is a boiler repairman struggling to make a working class living, while his wife Esther (Anne Hathaway) works teaching home economics, as they raise their two sons Paul (Banks Repeta) and Ted (Ryan Sell). The family gets some help from Esther's well-off parents Aaron (Anthony Hopkins) and Mickey (Tovah Feldshuh) Rabinowitz, who pay for their more academically promising older son Ted to attend private school. Paul, not the good student his older brother is, goes to public school.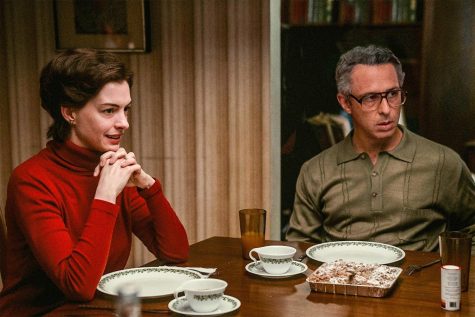 On Paul's first day of sixth grade, he and another boy named Johnny (Jaylin Webb) get in trouble for disrupting class. Both boys are punished although harsher treatment falls on Johnny. The two quickly become friends.
An appealingly real portrait of friendship develops between the pre-teen boys, played with touching believably by the young actors. Paul loves to draw and frequently does so instead of his assignments, secretly dreaming of becoming an artist. Johnny collects NASA patches and dreams of being an astronaut. When the teacher tells them of a field trip to an art museum, Paul casually tells his friend his family is "super-rich" and he can pay the fee for both of them to go, although in fact he pilfers the money from a dresser in his mother's room. To Johnny, who lives with his grandmother is a tiny apartment, it might as well be true.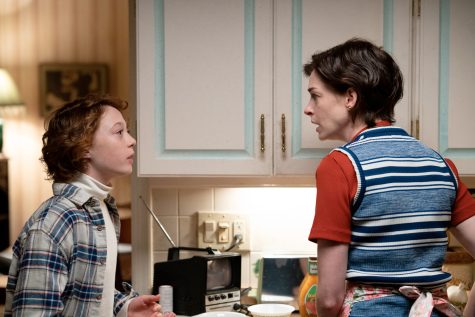 Paul's parents are upset when trouble at school reveals the friendship between their son and Johnny, who is Black. Although the family knows the pain of antisemitism, they still react with racist attitudes when the friendship is revealed, even if they are too embarrassed to say it directly. His parents form a plan to separate the boys.
"Armageddon Time" weaves a story that touches on antisemitism, racism, moral choices and the power of money and class in America. Gray, whose other films include "Little Odessa," has said that while filming, he taped four words to the camera: "love, warmth, humor, loss." In fact, all four are prominent in this family drama, but so is a striking realism and the presence of the American Dream, which is a looms over the Graff family.
What happens later in the story, shockingly but unsurprisingly underlines the lines of class, race and privilege in America.
This semi-autobiographical film recreates its 1980 time period well, and cinematographer Darius Khondji even shot some of it on location in Queens. But this is not a nostalgic film. To further set the sense of time and place, two members of the Trump family, Fred Trump (John Diehl) and Mary Ann Trump (Jessica Chastain), make an appearance at the private school to talk about hard work against the backdrop of privilege. The whole story takes place between the start of school and Thanksgiving that year, with the election of Reagan in between, a time when life-changing events occur in Paul's life.
Nothing is simple and straightforward in this powerful tale, and all the people are complicated. Paul's parents seem to love him, but their home life is chaotic. A dinner scene reveals parents who scream and threaten when Paul objects to the food but take no action to follow through on their threats. As Paul's mother Esther, Hathaway is loving but offers little guidance. As his father Irving, Strong is harsh and demanding, a figure his son fears because he sometimes beats him, as if that would make his younger son more like his older one. At other moments, we see a desperate fear in the father's eyes, a panic his son may not achieve the American Dream.
While Paul's home life is often chaotic, inconsistent and sometimes violent, his anchor is his close relationship with his grandfather Aaron. The scenes between Hopkins and Repeta are magical, often delightfully humorous as the two address each other as "my good man" and engage in playful wordplay and childhood imaginative play.
In one scene, the two talk after a school incident where a Black child is bullied. When Grandpa asks Paul what he did, Paul replies "nothing," with a smug, self-satisfied look we know reflects his parents' "don't get involved" philosophy. But his grandfather gently corrects him, telling him he must always stand up for others, that he should always "be a mensch."
Hopkins shines in this role, a standout in the film but, in fact, all the acting is strong. The young actors playing the boys are touchingly believable, Strong delivers excellent work as Paul's father, who subtly reveals his own deep-seated fears under his gruff exterior, and Hathaway is moving as the mother who pins her own hopes and dreams on her son.
A searing family drama told through the eyes of a child, "Armageddon Time" has a powerful message about class and power in America, a story told with masterful direction and an outstanding cast.
"Armageddon Time" opens Friday, Nov. 4 at several local theaters.