Adina Talve-Goodman's posthumously published book of essays is poignant blend of humor, insight
I never met Adina Talve-Goodman, but I feel as if I know her. The daughter of Rabbis Susan Talve and Jim Goodman of Central Reform Congregation, Talve-Goodman was born with a congenital heart condition and survived multiple operations during her childhood as well as a heart transplant at age 19. 
Her new heart served her well for 11 years, but tragically she died in 2018 at the age of 31 months after being diagnosed with a rare form of lymphoma.
At the time of her cancer diagnosis, she was attending an MFA program at the Iowa Writers' Workshop and working on her own nonfiction. Following her death, I asked Rabbi Susan if she would share some of her daughter's writing, which she did, including a piece that won Talve-Goodman Bellevue Literary Review's Nonfiction Prize in 2015.
That essay, along with six others, comprise her incisive new book, "Your Hearts, Your Scars," (Bellevue Literary Press, $17.99), which was assembled posthumously by her family and a former colleague at One Story, a New York literary magazine where Talve-Goodman had been managing editor. Though each essay stands on its own, they knit together an unflinching look at life before and after her transplant, taking us inside "the crawl spaces" as she calls them between sickness and health, living and dying, laughter and sorrow, grief and gratitude.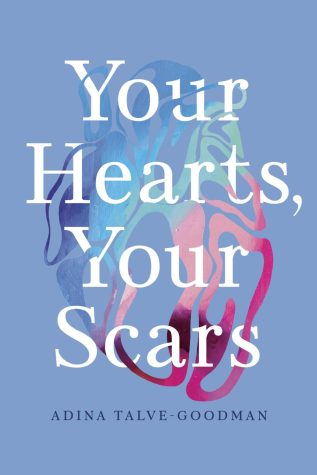 "The change from heart failure to wellness had been quick, and most days after the transplant, I did walk about the world feeling a lot like death in drag. I had gone from not being able to walk a half a mile without resting to thinking I'd like to travel to study clowning in Italy in less than one year." 
Talve-Goodman is both critical observer and active participant in her own life, which despite having lived with a chronic illness — or maybe because of it — provides her a unique perch to explore a variety of situations and circumstances with wisdom, insight and authenticity well beyond her years.
Her prose speaks the truth, her truth, of what it's like to grow up different than most. People seem to gravitate toward her, like the stranger in "Men Who Like Dying Women and Fishing," who tells her about his wife of 12 years (whom he met at Red Lobster) dying from heart failure.
Ruminating about romance, Talve-Goodman wonders how possible suitors might react to her scars, the battle wounds of multiple surgeries, including her transplant. 
"I waited for him to ask the usual questions: Why did you need it? Are you okay now? What about the donor?" 
"You have great boobs," he says.
Given the wry, matter-of-fact way she relates this exchange, it's impossible not to laugh out loud. And that's one of the many joys of this poignant collection — the way in which Talve-Goodman blends humor, humility and compassion so seamlessly, you can't help but be captivated. The book reads like she is speaking to you.
In her prize-winning essay, "I Must Have Been that Man," she tells of walking to a favorite coffee shop on a rainy day (during her undergraduate years at Washington University) and encountering a disabled man who had fallen out of his electric wheelchair. With her new heart, she doesn't hesitate to offer help. 
She vividly recalls the day of her transplant at Children's Hospital, during Game 5 of the 2006 World Series between the Cardinals and Detroit Tigers. She explains how she feels a responsibility to — and gratitude for — her new heart but is well-aware it comes at the expense of another family's grief. She also feels a strong kinship to the heart that was removed, recounting the Thanksgiving following her transplant when her family gathered to view and touch it.
"We all wore plastic gloves; we put newspaper on the table in case the liquid the heart was preserved in dripped. I removed my heart and held it in two hands because it was large, pale yellow, and deformed. But it hardly dripped. We passed it around the table and said thanks. Thanks to my old heart for doing all it could, thanks to my new heart for being so good, thanks to each other for coming home."
That she asked her doctors if she could bring home her heart in the first place was an unusual request. Her cardiologist wondered if it was a "Jewish thing." Her rabbi parents said no, it's not a Jewish thing to take your organs home. 
"All I could say was that I wanted it, it had been mine, and I didn't want it thrown away. They released it to me in an urn through a funeral parlor as my own 'remains.' "
An introduction by Sarika Talve-Goodman talks about her sister's legacy, her complicated medical history and her intentions for the book. Comedian/actress (and Clayton High graduate) Jo Firestone paints a verbal picture of her best friend since the age of 6, including Adina's love of glitter and babies, Cher and "Moonstruck," pretty shoes even if they did give her blisters and little Italian restaurants. 
I never met Adina Talve-Goodman, but after reading "Your Hearts, Your Scars," I know her indominable spirit lives on, reminding us to take nothing for granted, least of all our health and our relationships, and to savor the moments, especially the ones between the crawl spaces.
"Your Hearts, Your Scars" is available at local bookstores, such as Left Bank Books in the Central West End, and on Amazon.