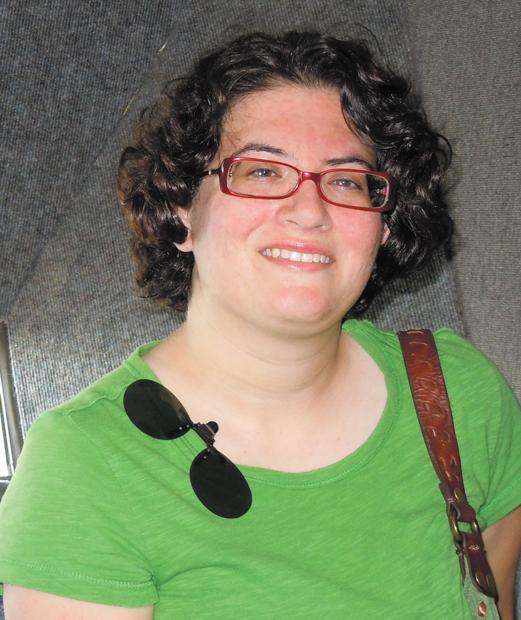 The artistic ambience of Soulard Art Market and Contemporary Art Gallery matches its surroundings in Soulard: a historic brick building containing an alternative flavor.  The Art Market's space includes a room with rotating monthly exhibits, as well as several more rooms which artists can rent to display their work.
The creator behind Duncan Designs stocked her room full of colorful jewelry (earrings and necklaces) and scarves.  At the time of my visit, I was looking for a gift so I bought a pair of earrings.  I was pleased to support a local artist with the purchase of a unique and affordable gift.
In another room I discovered artist Erica Wagner, who paints in bright saturated oils on canvas.  She creates thickly-applied circles which overlay backgrounds of drips of paint.  Color combinations include blue, green, yellow, red, and purple.  Her paintings evoke cells or objects in outer space, such as suns or planets.
Photographer Garrett Roberts depicts Earthly subjects such as scenes of the Botanical Garden, the Forest Park Balloon Race, and Tower Grove Park pavilions.  His photographs are black and white or sepia, and he manipulates the images to make them appear out of focus.  They resemble photographs from a century ago and possess a nostalgic quality.
Visitors can view the upcoming Featured Artist Series on Friday, June 7 (7:00 – 10:00pm) and Saturday, June 8 (12:00 – 8:00pm).  Artists Wendy Wees and Milo Duke will display their work in Paintings from the Left Coast.
Soulard Art Market and Contemporary Art Gallery is located at 2028 S. 12th Street at the corner of 12th and Russell, across from McGurk's Pub.  Gallery hours are Thursday and Friday, 6:00pm – 10:00pm; and Saturday and Sunday, 12:00pm – 6:00pm.  For more information, call 314-258-4299 or e-mail [email protected]