56 hidden letters unearth one woman's unknowable Holocaust past
Jordan Palmer, Chief Digital Content Officer
Published April 27, 2022
(JWA) – After a career spent telling other people's stories, Eleanor Reissa has finally uncovered her own. In 1986, when her mother died at the age of sixty-four, Eleanor went through all of her belongings. In the back of her mother's lingerie drawer, she found an old leather purse. Inside that purse was a wad of dried-up papers in a brittle baggie: fifty-six letters handwritten in German by her father, in 1949—only four years after Auschwitz—to her mother, also a refugee, already living in the United States.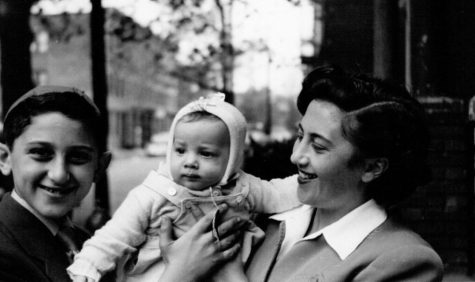 Thirty years later, with her father's letters as her silent guide, Eleanor goes on a journey, unearthing the unknowable about her family's past and her own present.
The letters sent Eleanor on a search to retrace her family history in Europe, which she chronicles in her new memoir, The Letters Project: A Daughter's Journey.
In this episode of Can We Talk?, Nahanni Rous talks with Eleanor about how her life has been defined by being the daughter of people who lived through the Holocaust.
The Jewish Women's Archive
The St. Louis Jewish Light is proud to announce a new partnership with the JWA. Together, we will bring many parts of the JWA collection to St. Louis readers, as well as promote the "Can We Talk?" podcast by sharing both current and past relevant episodes each week.
The Jewish Women's Archive is a national organization dedicated to collecting and promoting the extraordinary stories of Jewish women. JWA explores the past as a framework for understanding the issues important to women today; inspires young people with remarkable role models; and uses Jewish women's stories to excite people to see themselves as agents of change.
This website is the world's largest collection of information on Jewish women and draws 2.5 million visitors a year seeking information, inspiration, community, and a sense of identity. We hope you enjoy exploring the thousands of stories of inspiring women here! JWA also hosts public programs; trains the thought leaders of tomorrow through the Rising Voices Fellowship; sparks conversation with its blog, podcast, and social media presence; and is a leading voice in feminist and Jewish spheres.
Join us! There are many ways to get involved with JWA, including:
Subscribe to JWA's podcast, "Can We Talk?"
Read with the JWA Book Club
Follow "Jewish Women, Amplified," JWA's popular blog on feminism, history makers, and current events
Teach for a variety of educational settings
Create a tribute to a special woman in your life (and add her to the archive) with We Celebrate
Find unique merchandise, including the "Feminist History-Makers" series, in the JWA Shop
Make a donation to support a resource and community like no other
Stay informed by liking us on Facebook, following us on Twitter, and subscribing to one of our e-newsletters. Join the conversation!